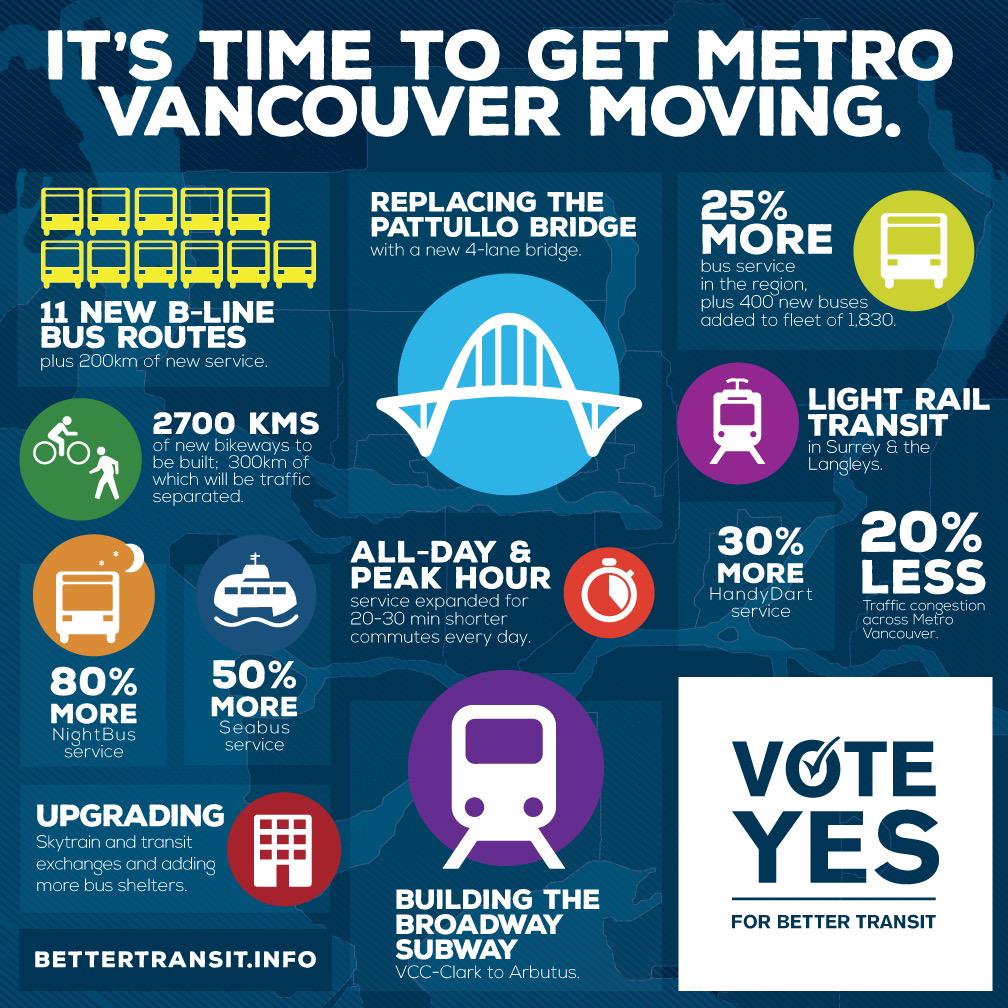 Imagine that within the next ten years, you, your family and friends can safely and comfortably cycle across the region to work, school, shopping and transit as well as for recreation and exercise. And, when you would rather take transit, there is a bus or a train nearby arriving within a few short minutes.
Please help make this happen by making a monthly contribution, a one-time donation or by volunteering!
A Yes vote will bring improvements including: 
✔️ 2700km of cycling routes including 300km of paths and lanes separated from traffic
✔️ $131 million invested in cycling over ten years
✔️ Upgrades to the BC Parkway and Central Valley Greenway
✔️ Investing in North Shore Spirit Trail, Evergreen Bikeway and routes parallel to rapid transit lines in Surrey and Langley
✔️ Improved cycling and walking access to transit stations
✔️ Much improved cycling and walking facilities on a new 4 lane Pattullo Bridge
✔️ Millennium Line Extension to Arbutus, LRT in Surrey, 25% increase in Bus Service, 11 B-lines, increased capacity on the Expo Line 
All for only around 35 cents a day per household.
You can vote via mail-in ballot between March 16 and May 29.
Benefits
✔️ Safer and Healthier - With less traffic, fewer crashes and more opportunities for walking and cycling, the plan will save around 200 lives and prevent 4000 serious injuries per year. 
✔️ Sustainable Environment - Reduced Greenhouse Gas Emissions and Air Pollution
✔️ Healthy Economy - Keep our economy competitive with faster and more reliable travel and better access to more jobs, workers and markets 
Like this to spread the word