People cycling in British Columbia routinely face a variety of hazards on roads and other cycling facilities throughout the Province. These hazards include debris, gravel, dirt, potholes, poorly maintained shoulders, improperly installed rumble strips, poorly designed railway crossings and roads not designed to safely accommodate cycling. These hazards can and do lead to serious injuries and fatalities. Improved hazard removal and maintenance is one of the key components of the BCCC's proposed provincial cycling strategy.
Cycling Hazard Reduction and Maintenance Action Plan
To help reduce hazards and improve maintenance of roads and paths throughout the Province, the BCCC is developing a Cycling Road Hazard Reduction and Maintenance Action Plan.
Phase 1: Cycling Road Hazard Study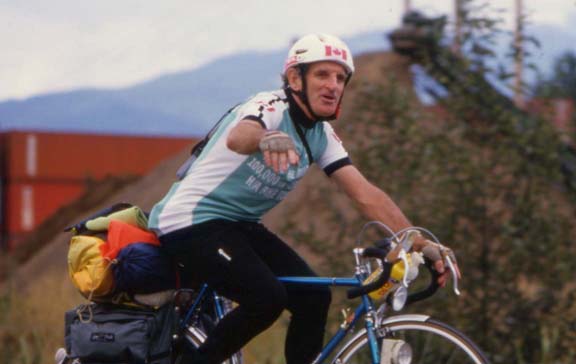 Phase 1 of the Action Plan, the Cycling and Road Hazard Study, is being kickstarted by the BC Randonneurs generous donation of the John Hathaway Bequest to the BCCC.
This Study will include:
Current policies of the Provincial Government and other Authorities related to maintenance, hazard removal and road design
Who is responsible for what infrastructure
Current hazard and collision reporting mechanisms or lack thereof
Best practices from other jurisdictions
Hazard and injury reporting websites and apps from other jurisdictions
Gather incidence and hazard reports from members of the BC Randonneurs, the BCCC and our member groups
Recommendations for policy and operational changes to address the problems identified
Recommendations for improved hazard reporting including options to build the capacity of the BCCC and other cycling groups to collect, track, report and on hazards and incidents.
Actions
A kickoff meeting at the BCCC's Annual Conference on October 27  2:00-3:30 PM at  the Accent Inns in Burnaby
Meetings and correspondence with government officials and other stakeholders
A survey distributed to our members and cycling groups
A wrap-up meeting in 2014 to discuss the findings and determine next steps
Products
Web pages containing the policies and who to contact for what problems where.
Articles for distribution to members of the BC Randonneurs, the BCCC and our member groups with a link to the web page(s)
A report detailing the findings and a brief highlighting the problems and recommendations distributed to government officials, our member groups and other stakeholders
A media release
Meetings with politicians and government officials encouraging them to take action.
Future Phases
Future phases of Cycling Road Hazard Removal and Maintenance program include development of the capacity for the BCCC and other cycling groups to follow through to ensure the problems are addressed both at the policy and operational levels.
Future phases will likely also include the development of a mobile website or app to report hazards and incidents dependent on the BCCC being able to secure the resources needed for the development and ongoing operation and upgrade of such tools. This website and app could be expanded to map and warn cyclists of hazards.
Contact
If you are interested in getting involved or would like to donate to this initiative, please contact Richard Campbell, [email protected]